Associate Professor of literature and environment and Director of the Great Books Program at East Carolina University Helena Feder hosted a reception, sculpture unveiling and the launch of her new book "You Are the River," on Sept. 15 at ECU's outdoor sculpture garden located between Joyner Library and Mendenhall.
The reception was filled with colleagues and former students of Feder's, and featured several live readings from her book which is a collection of 75 literary responses to 75 works of art on display at the North Carolina Museum of Art.
"If you've been to the North Carolina Museum of Art in Raleigh it's a pretty amazing museum," Feder said. "When I moved here from California in 2006, I was so excited that we had a world class museum in-state and then I just fell more and more in love with it as the collection got bigger and diversified."
Feder's collection features literary responses from the likes of authors Dorianne Laux, Jaki Shelton Green, Michael Parker, David Gessner and Liza Wieland.
Green, Wieland, Luke Whisnant, John Hoppenthaler, Alex Albright and Peter Makuck performed live readings for the reception. A collection of writers that Feder said she put together with the intent to represent the museum as well as she could.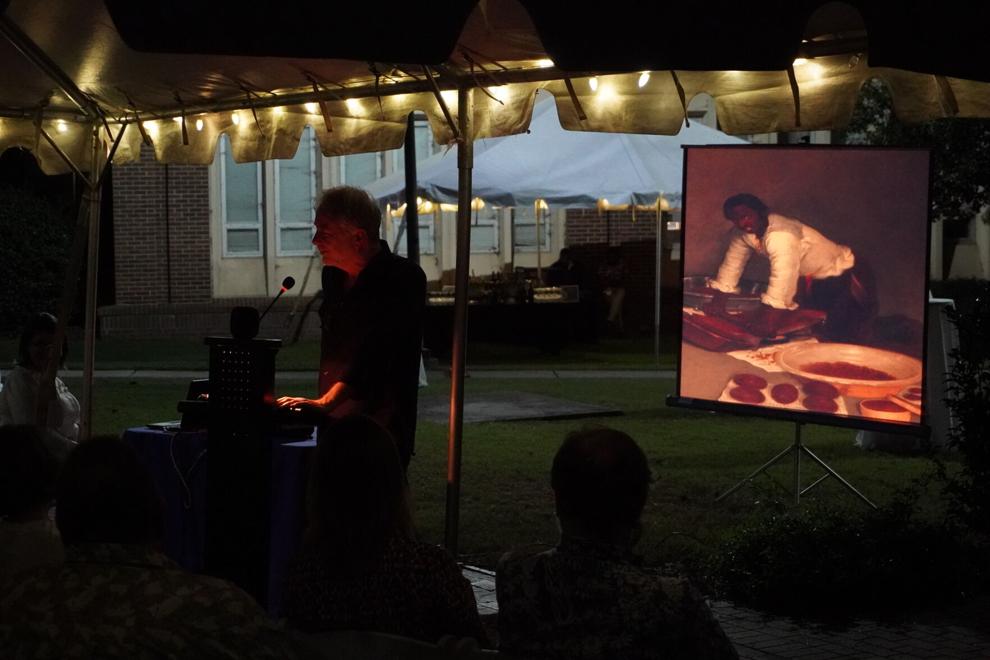 "So I just wanted to represent the museum well, we have so many talented writers in-state, fiction writers, poets, essayists. I just invited some of the many talented people to write," Feder said.
Beyond the launch of Feder's book, Wednesday night featured the unveiling of The Great Books sculpture dedicated to the Great Books program here at ECU. On display in ECU's outdoor sculpture garden, the sculpture is a giant book resting vertically on its spine with the words "Great Books Program" on the cover, an interactive QR code linking to the Great Books Program homepage paired with a take a book leave a book box within the pages of the book.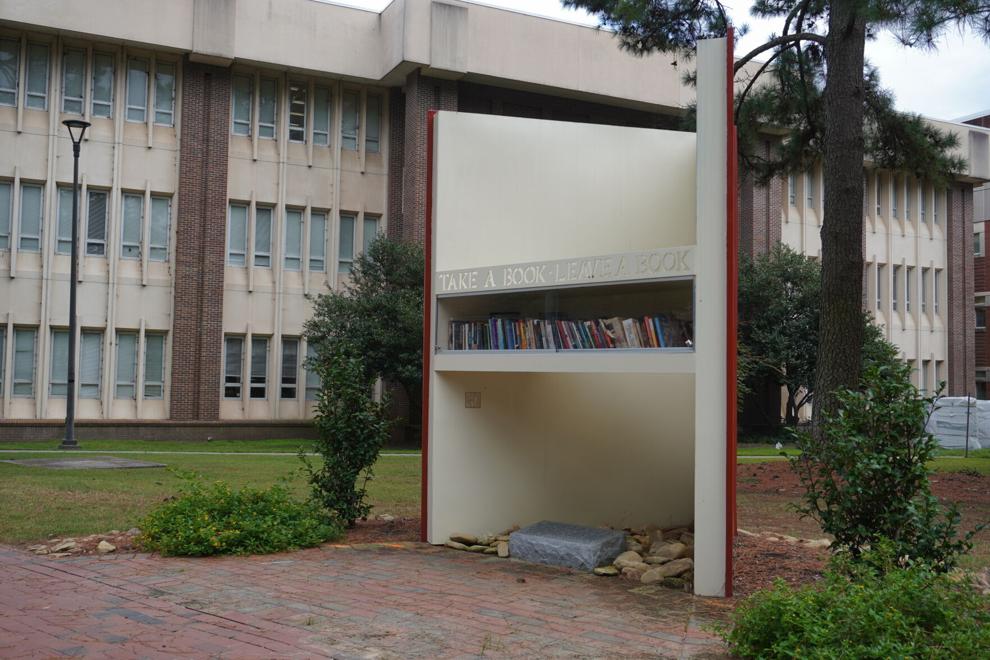 Fundraising for the sculpture was largely Feder's doing as she explained she went door to door to potential contributors, receiving contributions from the likes of Academic Library Services, otherwise known as Joyner Library, and the North Carolina Museum of Art. Feder said the project took three years in total to plan.
"So I started looking into the costs of a temporary versus a permanent sculpture and I realized we wanted something permanent," Feder said. "I found out that temporary is not as cheap as you think because you have to put it up and take it down and store it, so I started fundraising and I went cap in hand to a bunch of different programs and places."
Great Books is an interdisciplinary program which offers a major and a minor through multidisciplinary studies. Feder said that while she loves what she does within the English department and is proud of those duties, Great Books offers more than just English, including German, Russian, Chinese and more.
The intent of the sculpture, according to Feder, is to shed some light on the Great Books Program here at ECU. She said she encounters students all the time who have found out about Great Books too late as juniors and seniors.
After reaching out to colleagues and peers to discuss ideas for the Great Books Program sculpture, Feder said Associate Professor of German David Smith brought Feder the idea to do something similar to a temporary sculpture he read about that was on display in Germany.
The sculpture Smith was thinking of, called "A Walk of Ideas," was a series of sculptures with one being a stack of oversized books boasting the names of prominent German authors that was on display when Germany hosted the 2006 FIFA World Cup. The sculptures were meant to put Germany's enginuity and richness of ideas on display, according to the ARUP website.
"It was a temporary sculpture where they took some of the German authors that have contributed basically to the arts conceivably the most," Smith said. "They did books stacked on top and basically the impact of the author or perceived impact of the author on our understanding of what it means to be human, the wider the book was."
Smith said the program is about perspective building and is a place for students to come to grips with the validity that different perspectives in this world offer.
Former student of Feder and Smith, Harriete Carlton graduated from ECU's Great Books Program with a double major in German and great books and a minor in English in 2019. Carlton is now in her first semester as a graduate liberal studies student at Duke University. Carlton said her decision to attend upon Feder's invitation had a lot to do with the relationship she was able to form with professors in the program.
"She's (Feder) an intensely meaningful connection, she's one hundred percent part of the reason why I am the person that I am today," Carlton said. "She is the one who kind of broke into my interest in literature, because when I arrived at ECU I was actually a premed student."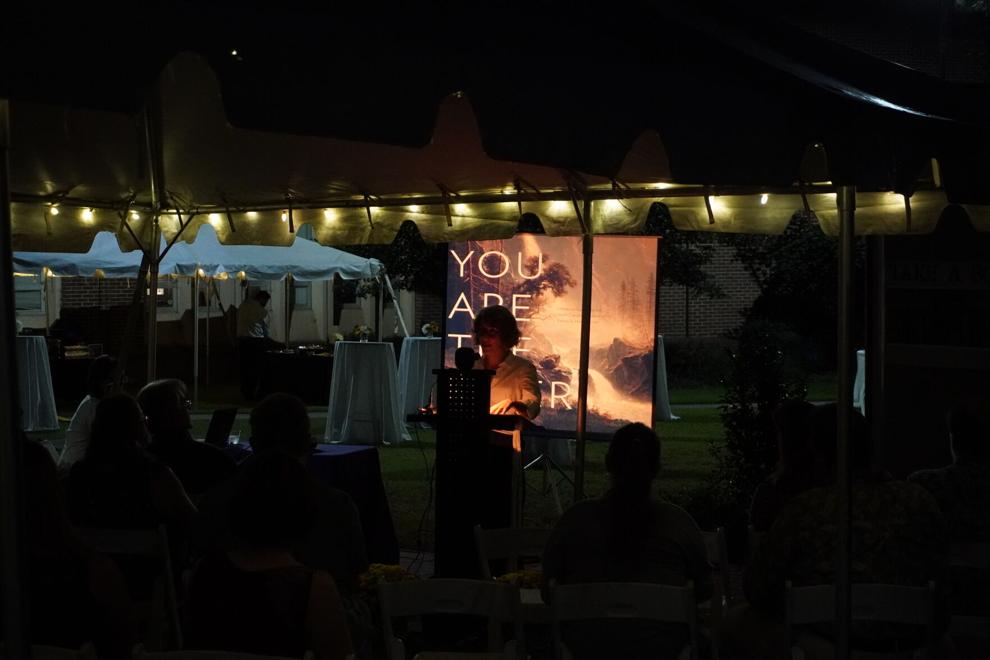 Carlton said during orientation she spoke to Dr. Smith when she realized she wanted to study German. After about a year, Carlton said she discovered she wanted to add something and in starting with Great Books, came the introduction to Feder who Carlton said welcomed her with arms wide.
As for thoughts on the sculpture, Carlton said she finds it poetic and hopes students walking by take notice.
"I think it's an absolutely incredible sculpture," Carlton said. "I hadn't seen it in person so this is my first time actually seeing it. Helena tried to describe it to me, but I couldn't quite visualize it. I do really like it, kind of the idea of an open book with books inside it, there's something really beautiful about it."
After graduating, Carlton said she took some time to figure out what was next for her. When nothing struck her, she said she asked Feder and Smith for advice, when Feder pointed her in the direction of Duke and eventually the field she's studying now.