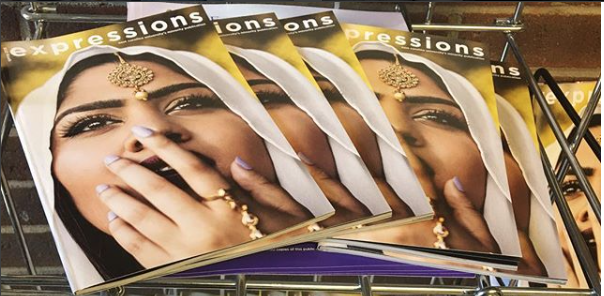 About Expressions
ECU's official minority magazine highlights diversity on campus and strives to broaden readers' understanding of minorities in our community. We exist as an outlet to address the experiences, concerns and perspectives of students who defy the mainstream. There are 2,000 copies distributed across campus each Spring.
Submissions
Expressions is always accepting submissions. Submissions may include student writing, photographs or illustrations. The submissions should tell stories of survival and perserverance against adversity. Anonymous submissions are welcome!
Entry's may be sent to expressions@ecu.edu.
Join our staff
Students interested in joining the staff of the award-winning East Carolinian or our top-notch Magazine team can do so through the The East Carolinian (TEC) Candidate or Magazine Academy programs. These are semester-long, once-a-week training sessions for prospective staff members. Participants in these Candidate programs meet* for one hour weekly.
Students in the TEC Candidate Program take part in essential lessons on best practices in student journalism, including effective interviewing techniques, media law and multimedia reporting. Students selected for the Magazine Academy learn foundational principles of creative and long-form writing as well as style and design. Successful candidates graduate out of these programs to become writers and reporters. Eventually, they can go on to become part of the management for their respective divisions.
For information on the Magazine Academy, contact Adviser Terrence Dove at dovet@ecu.edu.