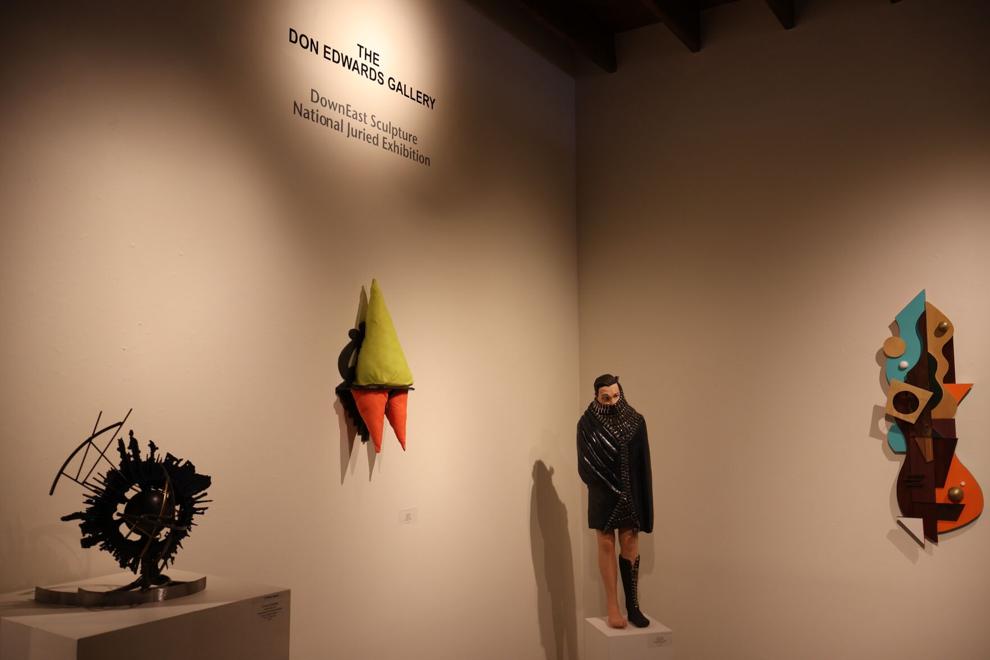 The Emerge Gallery and Art Center is hosting its joint March exhibition, the Downeast Sculpture Juried exhibit and Stephanie Statham Witchger's solo exhibit "Seeking Time," until March 30.
Sarah Lazure, Emerge Gallery's marketing coordinator, said the Downeast Sculpture Juried exhibit is located inside the Don Edwards Gallery and outside the Emerge Gallery. Both exhibits first opened on March 3, Lazure said, and Witchger's exhibit is located in the Harvey Wooten Gallery where both exhibits will be open from 10 a.m. to 9 p.m. daily.
Witchger said she's been working on her 21 exhibit pieces since fall of 2018. Her exhibit will feature watercolor paintings and pencil and ink drawings inspired by early morning moments, or "little pockets of time," she captured using her iPhone camera to create photo collages, she said. By taking 30 minutes to an hour out of her day to get creative, she said her artwork built up over the years.
"It's honestly like there's three bodies of work, but then they're all interconnected at the same time," Witchger said. "This work is very much about noticing these small moments and little bits of life happening around me, and just the care and attention of giving that to the items you maybe tend to overlook."
As an East Carolina University alumna with a Bachelor in Fine Arts degree in painting and drawing, Witchger said this solo exhibit is one of her more formal shows than others she's done, such as her senior show at ECU. After finishing school and working full-time as a mother, Witchger said she always felt out of time, until she realized if she continued to wait for the perfect time, everything would pass her by.
Tina Marcus, an artist whose sculpture piece Person of Interest won 2nd place in the Downeast Juried exhibit, said this is the first time she's submitted her work to Emerge Gallery. The life-sized sculpture from Marcus' collection of "Pulp People," comes from a body of work called "Soul Selfies," which reflects defining moments in her life.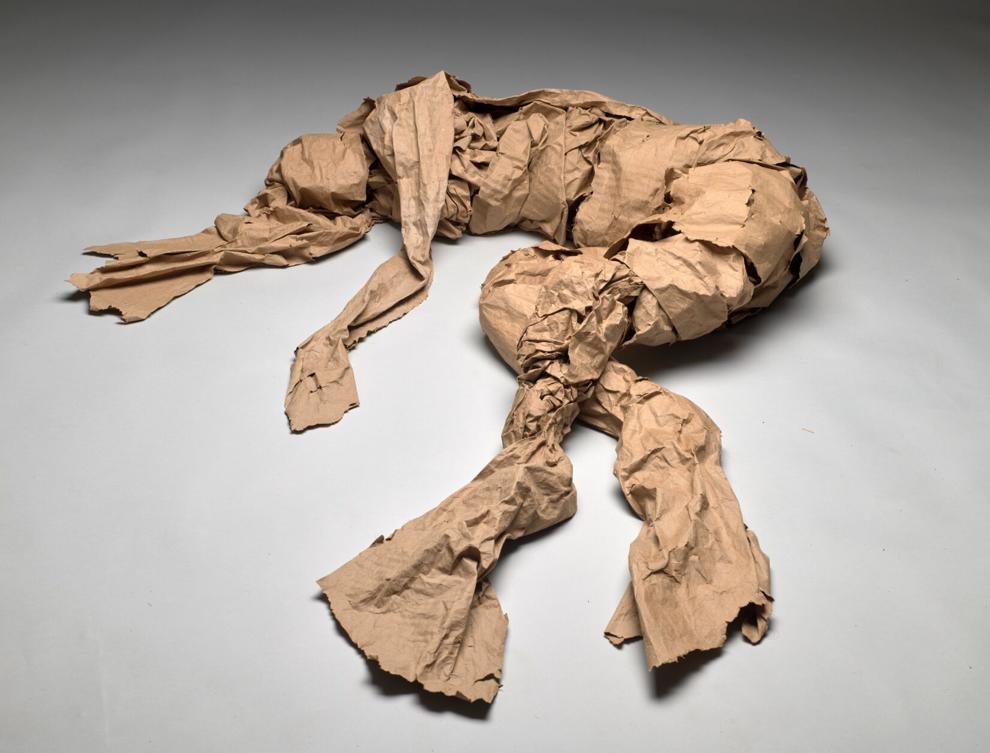 "My work focuses on experiences that affect the human spirit and the soul. I also am exploring conditions and circumstances around that," Marcus said. "I don't want to use the word 'was inspired,' but it was an outcome of seeing more and more people that have been un-homed as a result of the pandemic."
The sculpture is a confident expression used to describe someone accused of a crime, Marcus said. She said her sculpture captures the crime of being one of the disadvantaged people living in the streets. She said she works with paper in order to draw attention to the insecurities of life and the struggles of marginalized individuals.
Jonathan Soulen, an untrained amateur artist who submitted his piece "Too Much Chain for the Frame" to the Downeast Juried exhibit, said his piece is a part of his collection, "Lost Voices of Pitt County." Because Soulen was laid off in 2020 when COVID-19 shut down businesses, he said he decided to take a break from his 26-year profession to take photos of abandoned homes and barns in Pitt County.
"I don't have professional training. I just decided to work on my instinct and put together things that made me feel happy," Soulen said, "And if I enjoyed putting the pieces together and enjoyed looking at them, then I figured there might be one or two other folks that feel the same way."
Soulen said he works with old wood and pieces of metal borrowed from abandoned homes and barns in Pitt County because he wants to draw attention to the homes people don't often notice. So far, Soulen said he's made about at least a dozen sculpture pieces in the past year.
When people are viewing his pieces, Soulen said he hopes people will be able to look at his work and to think about the previous life the material has lived 150 years ago.
"One of the reasons I call it 'Lost Voices of Pitt County' is because I want people to think of this piece and how it relates to where we sit right now in Pitt County. It speaks to a point in the time space continuum," Soulen said.
Lance Vickery, the presiding juror over the Downeast Sculpture exhibit, said he chose the featured sculptures over a couple hours in a three-day period. Vickery said he was provided around 30 pieces in which he had to judge whether the pieces belonged indoors or outdoors.
For his criteria, Vickery said he made sure to not only include his reflection of the art, but to also reflect a diverse selection from a community of artists.
"Art, in my opinion, kind of breaks down into two things, beautiful and interesting. Beauty is the thing that we just kind of inherently know," Vickery said. "Interesting is a little bit different because it has an experiential quality to it, with things like titles and all that."