The "Gravy Train" made a stop in Greenville, North Carolina, on Oct. 24 when American rapper Matthew Hauri, also known as Yung Gravy, dined out with a fan at Sup Dogs and performed a concert at the State Theatre later that night. 
Sup Dogs owner Bret Oliverio said on Oct. 13 that the event was originally intended to be a lunch with one fan who won a raffle, but the event was then changed to be a general meet and greet with fans. 
"Yeah I mean it sort of started out as a lunch like a contest to win lunch with him but the interest has been, the interest in the contest has been through the roof, so we sort of switched it to a meet and greet just so he has a chance to meet a significantly bigger amount of his fans at Sup Dogs," Oliverio said.
However, on the day of the event, Hauri ate lunch with the winner and left without greeting the group of confused fans who had come to meet him.  
On Oct. 25 a member of Hauri's management team Henley Halem said in an email statement that Hauri's team never intended for the event to be a meet and greet, only a lunch at Sup Dogs with a single fan.   
"A few weeks back the promoter asked us if we had any interest in running a contest. The contest was for one winner to have lunch with Yung Gravy at Sup Dogs. He had to leave the contest lunch to do his meet & greets at the venue, and we are unsure where the restaurant owner (Oliverio) was told we were doing a meet & greet at the restaurant. Gravy doesn't dodge fans!," Halem said. 
After the event, Oliverio said in a written statement that while Sup Dogs hoped for Hauri to stay longer, he "put on a great show" and was nice.
"Yung Gravy ate and had a few drinks with the contest winner. We were hoping he would stay for a bit and take a few additional pics with his fans, but that did not happen," Oliverio said. "We heard he stayed longer than contractually obligated."
Freshman intended nursing major Olivia Giambalvo said she went to Sup Dogs to meet Yung Gravy and she planned to go to his concert that night. She said her mom attended ECU and remembers artists like Hootie and the Blowfish playing in town before they were well known.
Giambalvo said it would be fun to see Yung Gravy perform as he already has a large following. She said she is not a huge fan of Hauri's music but that she finds his songs enjoyable.
"I think it's (his music) definitely stuff my friends and I would play in the car when we're just driving around," Giambalvo said. "He's also really cute, I think he's so cute like oh my gosh, it's (his music) really catchy too once you learn the lyrics you got it, they're not going out of your head."
Hauri, who arrived at the Sup Dogs event around 30 minutes late, sat down to eat lunch with the winning fan from Sup Dogs' raffle. A Sup Dogs employee informed fans waiting on the roof that Hauri would walk around and interact with them once he was done eating. 
Sup Dogs server Daniella Dean, who served Hauri and the winning fan, said Hauri and his team were nice. She said Hauri ordered two sup crushes, which included grapefruit and lemonade, and a Sup Dog combo with cheesy tots. He also received a cherry limeade sup crush on the house and a vulgar vagina shot from someone at the bar, she said.
Dean said Hauri asked her if she was going to attend the concert and when she said no, he gave her two tickets.
"Honestly I didn't know who he was until he came here but he seems like a nice guy," Dean said.
When Hauri was done eating, he proceeded to the front of Sup Dogs and an employee informed fans that they had an opportunity to take pictures with him downstairs.
Fans followed Hauri and his team to the front of the restaurant where Hauri was taking a picture with employees of Sup Dogs. As fans waited for their turn, someone from Hauri's team informed the crowd of fans that Hauri would only be taking a picture with the Sup Dogs employees and no one else.
Hauri and his team then promptly walked away, leaving the group of around 10 fans wondering why they didn't have the chance to meet or take photos with him. Freshman intended nursing major Karlye Abney said she thought the way the member of his team let the crowd know there would be no other photo opportunity was "very rude" and was upset that she did not get to meet Hauri.
"Like we waited for like two hours, literally two hours and you can't let us take 30 seconds for a picture," Abney said. 
After Hauri left Sup Dogs, Giambalvo said she too was upset by the way the meet and greet went and that the experience made her question if she still wanted to show her support for Hauri later that night. 
"Do I even want to go to the concert anymore?" Giambalvo said.
Fans later began to line up outside of State Theatre at least three hours before the concert began and were able to purchase Yung Gravy merchandise, such as T-shirts and hats, inside.
Before the concert began at 9 p.m., Danny T. Lancaster, whose stage name is DJ Danny Ocean, also known as "Carolina's Favorite Fat Boy," hyped up the fans as they began to enter the venue. While Lancaster was on stage, fans began to shout "Gravy" repeatedly.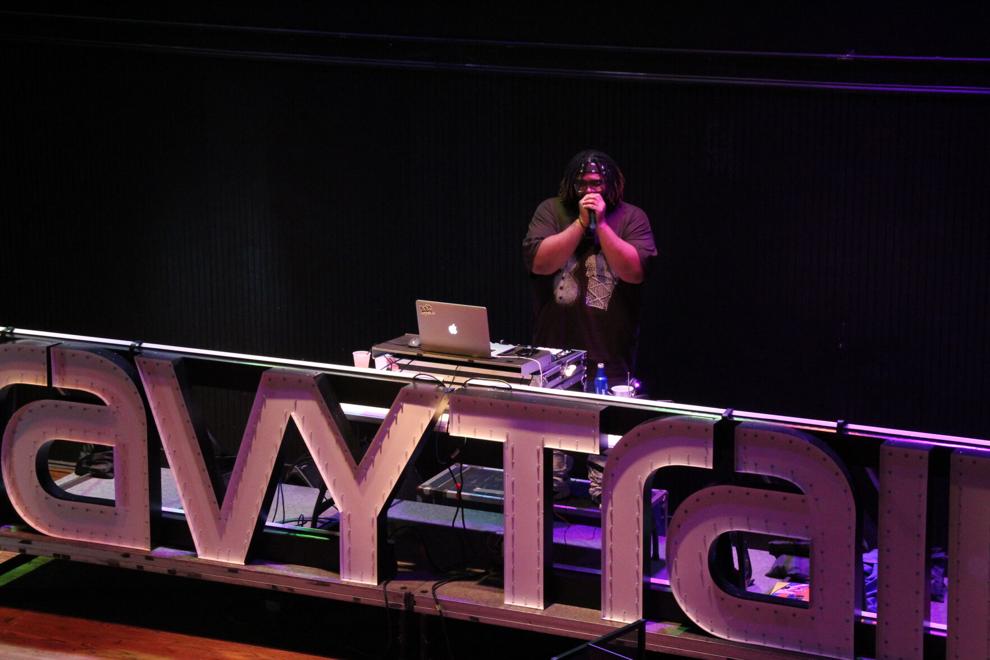 "Gravy I know you hear that s--t, they ready for you po' boy," Lancaster said.
Before Hauri made his entrance, the show's opener Dillion Church, who is also known as MoonLander, performed with Austin Johnson, known as DJ Lil Big Johnson, an East Carolina University alumnus. They threw T-shirts out to the audience throughout their performance.
Church informed the crowd that he was filming his performance for a show for Hulu at the concert and needed the crowd's help with getting shots of a high energy audience.
"Holy s--t I love y'all already," Church said to the crowd. "This is going to be the best f-----g night. I'm already shocked y'all."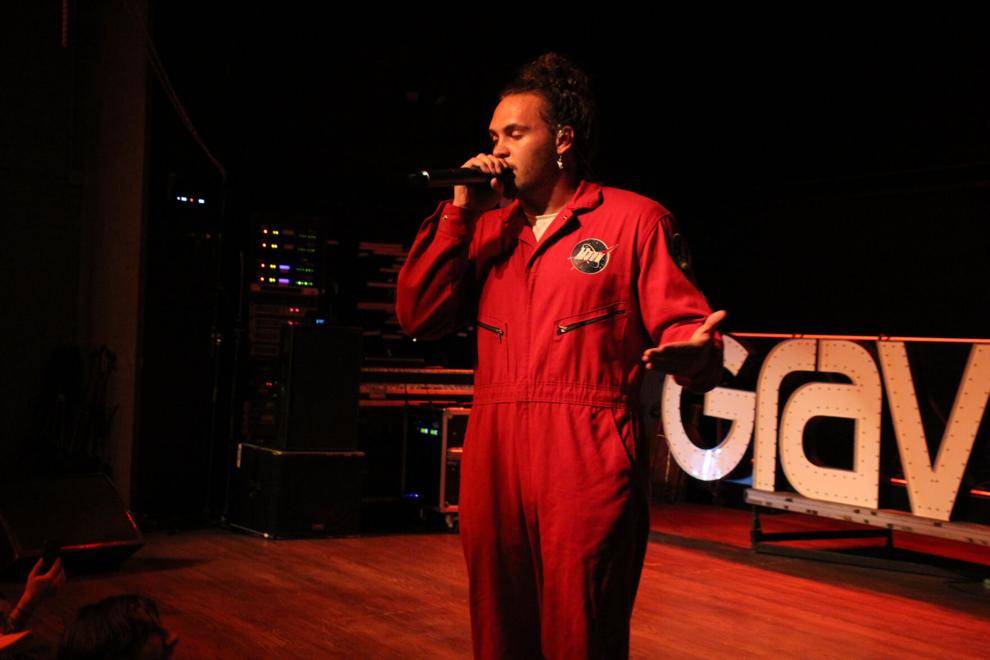 Church and Johnson performed in space suits and helmets to reflect their name, "MoonLander." While interacting with the crowd, Johnson gave his helmet to an audience member, which was eventually passed around to Cameron Agner, senior management information systems major. 
Agner said she got to the venue three hours early so she could be right in front of the stage. She said once the helmet was passed to her, she ultimately decided to keep it.
"And then Moonlander goes on and his DJ comes up and just f–---g puts it on someone, it gets passed around, ends up with me, and I'm like 'yeah!' I tried to pass it to someone else because I didn't want to hold this, and everyone was like 'no' so I wore it like a bracelet for most of it but then I put it on for a lot of it," Agner said.
Church was joined on stage briefly by "expensive guest" and flute player "Freddy" and TikTok star Stephen Ludwig, also known as Stevo. 
DJ Tiiiiiiiiiip, also known as Taylor Madrigal who is Hauri's official DJ, warmed up the crowd even more by playing songs like "Let it Go," by Idina Menzel, "Party in the USA," by Miley Cyrus, "Purple Haze," by Jimi Hendrix and more. 
As Madrigal told the audience that if they were enthusiastic enough Hauri would come out, the crowd responded by singing loudly to every song he played. Before Hauri came out, Madrigal handed out zebra cakes and beef jerky to the screaming crowd. 
Hauri finally came out onto the stage around 10:15 p.m. dressed in a bathrobe which he threw to a fan. Two audience members began to fight over the robe and Hauri stopped the show to kick out the instigator. State Theatre security immediately ushered the fan out while the other member of the altercation was later removed.
Having recently performed a concert at North Carolina State University (NCSU) on Oct. 14, Hauri compared the energy of the two college crowds. 
"Y'all's Sunday was more lit than their (NCSU's) Thursday," Hauri said. "That's so far, we'll see, I'll keep you updated. Respect. Y'all flexing on NC State."
At one point during the show, a fan crowd surfed onto the stage. Hauri tried to tell him that he could not come onto the stage but the audience members who held him up dumped him onto the stage. 
Hauri then welcomed the fan and dapped him up before politely asking him to crowd surf back off the stage. 
"I'm impressed with the fact that you made it here, but go on your merry way," Hauri said.
Throughout the concert, Hauri gave out multiple items to the crowd such as lunchables, frosted flakes, frosted mini wheats and JoJo Siwa cereal. In addition to giving out bottles of water, Hauri also sprayed multiple bottles onto the audience.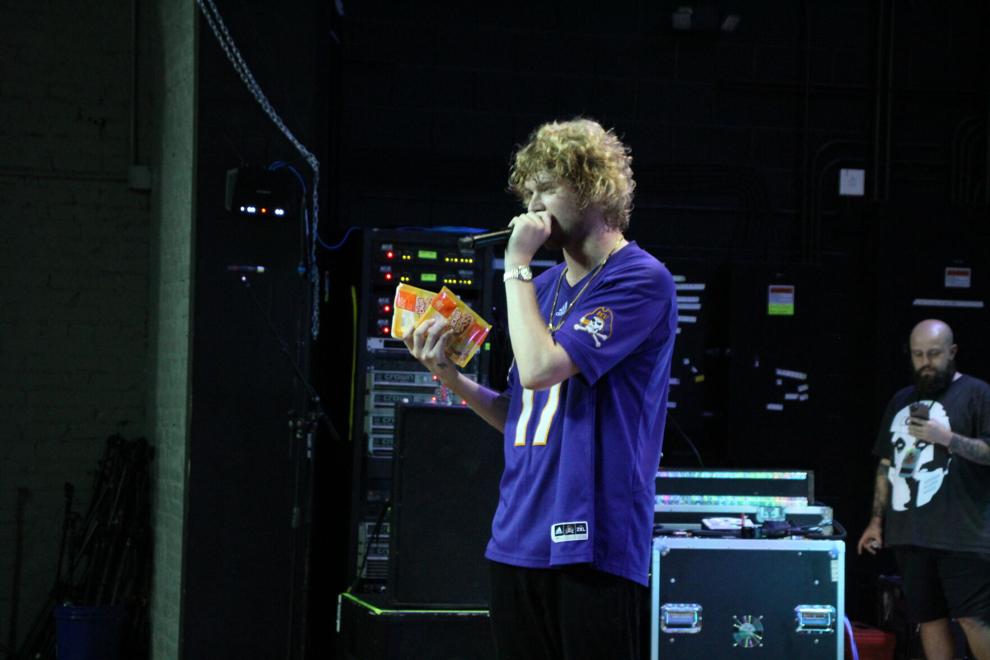 Alexander Leon Gumuchian, also known as bbno$, called Hauri during the show, prompting him to play Gumuchian's song "Lalala" while he performed from the call. The two have an album together called "Baby Gravy 2" which was released in 2020.
When the concert drew to a close, Hauri was notified that his time was up and he needed to end the concert. Rather than obeying the instruction, he said "f--k the curfew" and played "Sweet Victory" from Spongebob Squarepants: the Yellow Album. 
As he finished the song, he took off his ECU jersey and handed it to someone in the crowd. He then yelled "I love you" to his fans before he backed off the stage. Fans chanted "we want Gravy" in hopes that Hauri would return to the stage.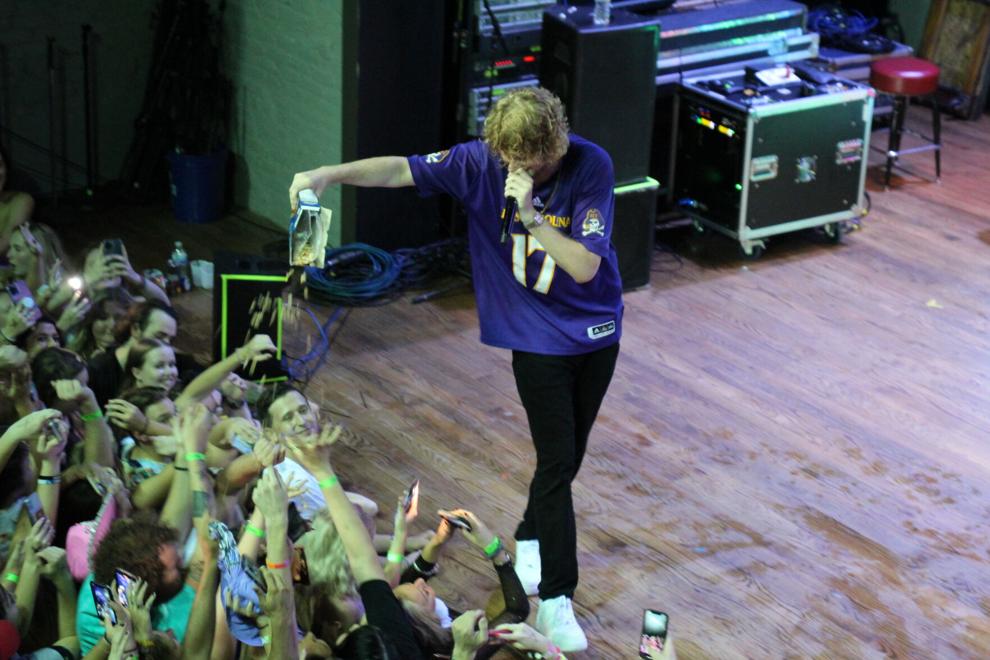 After the concert ended, Agner was taking pictures in front of the empty stage with the space helmet. She said she's a "huge" Yung Gravy fan and enjoyed the concert.
"We actually went to Sups (Sup Dogs) to see him and we were supposed to take a picture with him but he wasn't feeling very friendly," Agnes said. "It (the concert) was fun, there were some fights, a lot of cereal, a lot of cereal for Gravy and a lot of water. It (the cereal) fell into my helmet, into my shirt. There's so much cereal, but it was so fun."