Pirate's Deli, a New York style restaurant, opened its doors to both the Greenville, North Carolina, and East Carolina University communities on Sept. 23 with an offering of a fresh variety of scrumptious food with friendly customer service to those who walk in their doors.
With its convenient location across from the university, ECU students have easy access to the newly opened deli. Although it is across East 10th Street, a very busy street in the Greenville community, the restaurant is much closer than some of the others in proximity to the university.
Upon arrival at Pirate's Deli, one will notice a welcoming atmosphere. The employees all had friendly faces and greeted every customer as soon as they stepped in the door.
Mike's Deli, the now-closed restaurant that was in the building prior to Pirate's Deli, was a very delicious New York style place to eat, so the bar was set high to see if the quality of the new restaurant's food surpassed the food of Mike's Deli. 
New customers may not know exactly what Pirate's Deli has to offer, but the employee at the cashier's station was more than happy to explain the whole menu and what is included in each food item. The cashier also gave food recommendations as to what he would advise new customers to get.
Pirate's Deli has a variety of food options for individuals in search of a bite to eat. The restaurant offers a variety of salads, sandwiches, wraps, bagels, smoothies and juices as well as sides like french fries, mozzarella sticks and onion rings. The majority of the food they offer is relatively healthy and fresh.
When ordering the Greek Escape Salad Bowl, there was an option to customize and choose the base greens for the salad. Customers can choose from kale, spinach, mixed greens or an assortment of all three. The Greek Escape Salad Bowl included cherry tomatoes, peppers, cucumbers, onions, olives, feta cheese and was topped with olive oil and the customer's choice of dressing all for $8.49.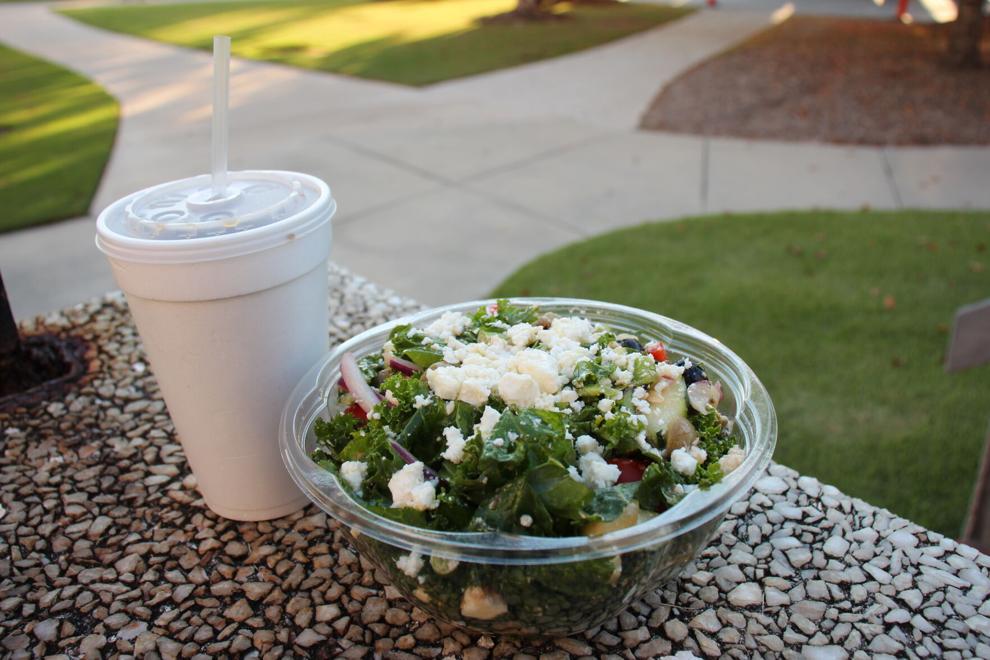 Upon the food's arrival to the clean table, the Greek Escape Salad Bowl was mouth watering. It looked as if every individual piece of the salad was covered in olive oil and a flavorful balsamic vinaigrette. 
Although the food service was a little slow, customers could watch employees preparing their food, so they knew exactly what was going on with their order. There were no complaints about the food service since the salad had various steps in order to make it to its fullest potential.
When the first bite of the Greek Escape Salad Bowl was taken, it was very delicious with a savory flavor of each ingredient that was included. Every bite after that was the exact same, just as appetizing and tasty.
The cucumbers were a little overbearing, but other than that, the salad was amazing. Other salads offered at the deli include a BLT Salad Bowl, Caesar Salad Bowl and an Avocado Salad Bowl. Customers can also get salads with potatoes, tuna, macaroni, egg or chicken. Customers can create their own salad and the menu provides various options individuals can choose from.
As mango is a top tier flavor of mine, the Mango Pie smoothie, which consisted of mangoes, pineapple, banana and apple juice, was ordered. One cannot go wrong with mango, and every sip of the smoothie included a delicious flavor of all the fruits added even down to the very last sip.
The artwork displayed throughout Pirate's Deli was astronomical. The main piece of art was a picture of Pirate's Deli as well as East 10th street, which included other buildings on the street as well as part of ECU's main campus. This piece gave a homey feeling that highlighted the Greenville and ECU communities very well.
The walls of Pirate's Deli were colorfully decorated which gave off a sense of good vibes. The overall atmosphere was all-welcoming.
ECU students or Greenville community members can order Pirate's Deli through the online food ordering and delivery platform Grubhub, which is convenient for those who do not wish to go out to eat and want to have their food delivered to their doorstep.
Although seeing Mike's Deli close its doors was unfortunate, Pirates Deli is definitely a step up. The new deli was a 10 out of 10 experience. Customers will for sure be returning for years as the food options are never ending and one will never be bored of what they have to offer.
5/5