The East Carolina University School of Art and Design is set to display the Spring 2021 BFA Senior Exhibition, Illustration Group Show from April 5 to April 16 in Jenkins Fine Arts Center Gray Gallery.
Curatorial Technician Maria Modlin said the exhibition will feature 10 senior illustration majors' work with a variety of types of artwork that includes paintings, movie posters and cartoons. She said a lot of the work is digital media, which has become more popular in the last few years.
"It helps them (students) in a way to learn to display their work; they learn how to set up their work properly and they learn how to work with other people as far as working within their given space. Seeing what's going to work best with the person next to them, and working together with those people," Modlin said.
Senior artists are required to participate in an exhibition show to fulfill their graduation requirements, according to Modlin. She said she always enjoys the artwork the students display in the exhibitions.
Modlin said students learn the necessary skills of a professional art show when they display their work in an exhibition. She said the students benefit and improve when they display their work in a big show or in a smaller exhibition.
"We've always done either group shows or the students also have the option of finding a place where they can do either a one person event or we do have a space for smaller shows, two or three person shows," Modlin said.
Senior illustration major Emma Williams said she submitted digital media pieces and printmaking editorial pieces that go with articles for the exhibition. She said she also submitted a travel poster for Milan, Italy.
Visitors of the exhibition will be able to see the hard work the artists put into their pieces, according to Williams. She said the opportunity to display her work in the exhibition has benefited her as an artist.
"I think that my time in the program has definitely helped me have a personal voice and a style to my work. My work will be able to stand out more. It's been a wonderful opportunity to meet people and to work on my skills," Williams said.
Senior illustration major Tegan Stooksbury said one piece she submitted for the show is a map of the Smithsonian National Museum of Natural History located in Washington, District of Columbia. She said she wanted to make a fun representation of the different exhibits in the museum and make a tour guide map version.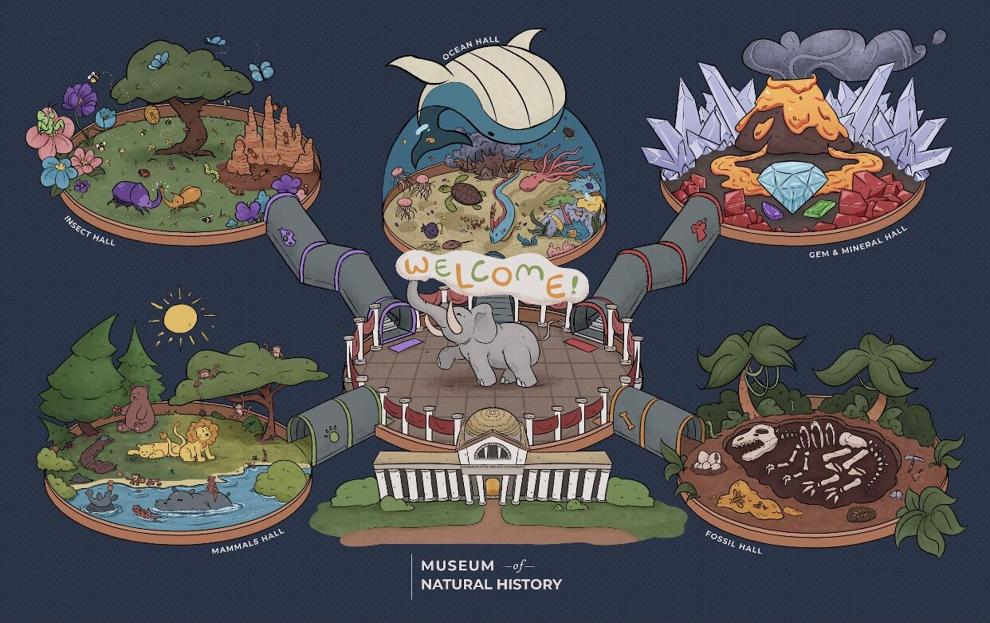 Stooksbury said her time at ECU has taught her time management and communication skills through her artwork. She said she learned how to take her ideas and communicate them on paper to others.
"It's a good way to see your work on the wall and get perspective on it. It's a real world experience, having other people see your art. I hope they (viewers of the exhibition) can get a sense of fun, being that you can have fun and playful imagery for any age and having a good time looking at it," Stooksbury said.
All of the artists in the show will display quality work, Stooksbury said. She said she is proud of the other artists' work, and wants people who visit the exhibition to have a fun experience as they look at the work displayed.