The Dickinson Avenue After Dark (DAAD) beer festival will return to Uptown Greenville, North Carolina, on Oct. 15 from 7 to 10 p.m. and will feature local breweries, cideries, wineries, food trucks and additional opportunities for fun. 
Executive Director for Uptown Greenville Meredith Hawke said DAAD is a co-hosted event between Uptown Greenville and the Pitt County AIDS Service Organization (PICASO). She said since its start in 2017, the semi-annual event provides an opportunity in March and October for guests to attend and enjoy beverages from local and regional crafters. 
"We saw the need in the community for a quirky beer festival style event and decided to work together alongside their (PICASO) president and bring the quirkiest beer festival east of I-95 highlighting local and regional crafters," Hawke said. 
Co-Chair for DAAD Robin Ashley said the beer festival is an opportunity for patrons to get familiar with beer, wine and cider products that are local to the region and east of Interstate 95 specifically.
"When we started the festival, there were lots of festivals around, even more so when we started, but we wanted to make sure to feature the companies that were close to us," Ashley said. "Greenville's beer scene was starting to pop up and there were breweries coming up along the coast, Rocky Mount, Wilmington and we said there are enough events focusing on what's happening in Charlotte and Raleigh."
Ashley said the last time DAAD was able to put on a festival of this caliber was October of 2019, with the COVID-19 pandemic forcing a gap year on the festivities. 
Even with a list of 12 breweries, cideries and wineries planning to attend the festival, Ashley said this is still a short list for what this event could be if every qualifying business were to attend. 
"It's interesting, it's a great list and I love everybody who's coming, but what's interesting is that there are still so many more breweries that are out there that are east of I-95 that we could double or triple in size," Ashley said. 
With such great potential for the festival in the future, Ashley said this is just the tip of the iceberg. Most of the vendors that will be in attendance are local to the Greenville area and while it's a great representation for what's in Greenville, there's much more to come from the rest of the region, Ashley said.
With craft beer resting at the festival's core, Ashley said one group they typically see is the 30 to 50-year-old age range as the festival is a great excuse to get a babysitter and go have a good time at a street festival. Students are just as welcome to attend the festival as well, but Ashley said preferably students of the 21 and up variety. 
"It's a great event in that sort of young professional bridge," Ashley said. "That's one area that Greenville is always looking to improve and if we're able to attract students like the graduating students, the grad students and dental and medical students that are in the area and show them that Greenville is a fun place, that there are things to do and there are events that they fit with." 
Owner and manager of Local Oak Brewery located in Winterville, North Carolina, Amy Amacker said in an email statement that while they serve a diverse customer base already, most of the business they see is from patrons who live in Winterville. Amacker said DAAD gives them a chance to reach those potential customers that might rule Local Oak out because of the trip across town. 
As a family owned and operated brewery and one of the smaller breweries set to attend the festival, Amacker said it's a great way to get people familiar with their beer beyond their taproom.
"We don't distribute our beer and are too small to go to many festivals," Amacker said. "So this is one of the only opportunities folks have to drink our beer outside of the taproom. The beauty of beer festivals is the sense of community and diversity. People get to sample lots of different offerings from multiple breweries and get a sense of what makes each brewery unique."
With Amacker acting as owner and manager, her husband Ben Self brews the beer that Amacker said was her husband's "brainchild." The family aspect, Amacker said, offers Self the opportunity to be hands-on with the craft every step of the way. 
Brews that Local Oak will be featuring will reach both sides of the spectrum from traditional to experimental drinks, Amacker said.
"We're bringing two or three different beers. It's always interesting to see which beers bring people back for a second or third round," Amacker said. "I think our customers and festival attendees appreciate that we're willing to take some risks to offer them really unique products."
Also planning to attend the beer festival, but pouring something other than beer, will be Jarvis Street Bottle Shop. 
Owner Tandi Wilson said in an email statement Jarvis Street Bottle Shop will be in attendance to serve wine from their local producers. 
"We will have local wines to sample and for patrons to get full pours while they walk around the event," Wilson said. "We will also have some of our shop's swag for sale, T-shirts and growlers! We have some local producers that we are going to be promoting. One in particular is Seven Pines Vineyard."
Seven Pines Vineyard will also attend the festival, according to the event's Facebook page.
Wilson said the Bottle Shop is excited to cater to an event of this size and hopes to bring some new customers into the storefront. 
"We are hoping to reach young professionals and patrons that have never been to the shop," Wilson said. "In the past DAAD has hosted a good mix of Greenville locals and other eastern NC locals so it will be nice to see that again and get some new people coming into the shop from checking us out at DAAD."
Jarvis Street Bottle Shop is listed as a sponsor for the festival alongside Burp Wagon, Taft Family Ventures and the Greenville-Pitt County Convention and Visitors Bureau, according to the festival's Facebook page.
Also in attendance at the festival will be Pitt Street Brewing Company. General manager at Pitt Street Brianna Long said in an email statement they're looking forward to seeing the niche crowd that the festival attracts.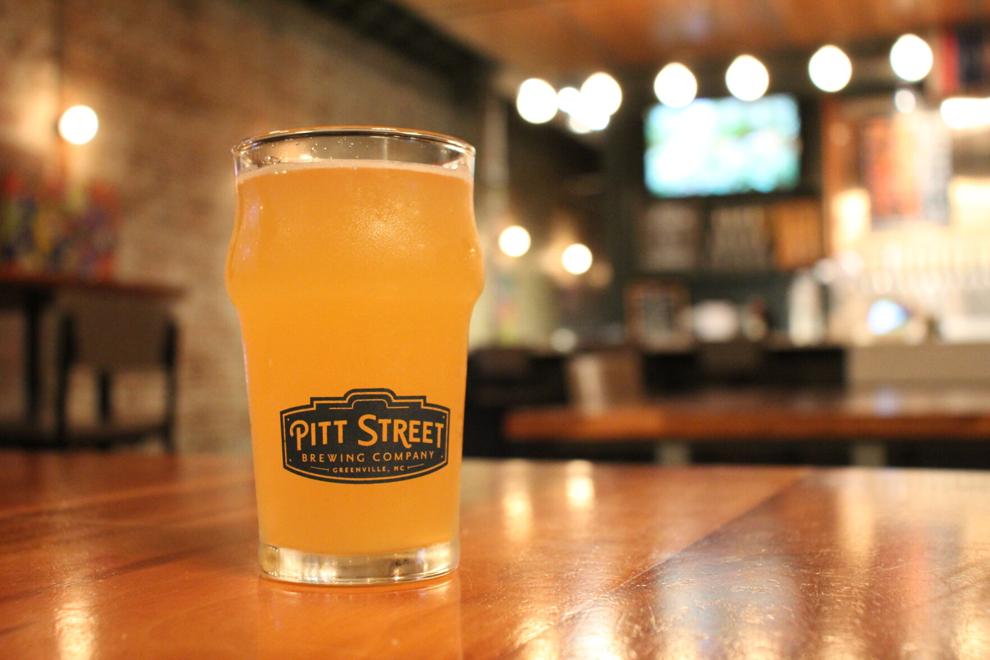 "We're hoping to see craft beer lovers and enthusiasts at the festival," Long said. "It's always fun chatting with fellow craft beer drinkers on styles of beers or what breweries they've been to."
Long said patrons at the festival will most likely see Pitt Street's Hay Chaser kölsch and Why Worry Session Hazy IPA. In reference to the local nature of the event, Long said they're thankful to be in an area close to so many other craft breweries. 
"We are thankful to be in a region with really great craft breweries all around us," Long said. "We hope patrons take away that there's a really special, local craft beer scene happening in their own community and to come out and support us!"