In an effort to mitigate the flood risk across eastern North Carolina, United States House of Representatives Greg Murphy, David Rouzer and G.K. Butterfield hosted the first annual Water Adaption to Ensure Regional Success (WATERS) Summit on Oct. 13 in Greenville, North Carolina.
The summit featured numerous speakers from the local, state and federal level, many of which shared information on ways to measure the risk of flooding in rivers and coastal zones and how to combat it. The framework of the summit addressed three questions for attendees to answer: Where are we now? Where should we be? How do we get there?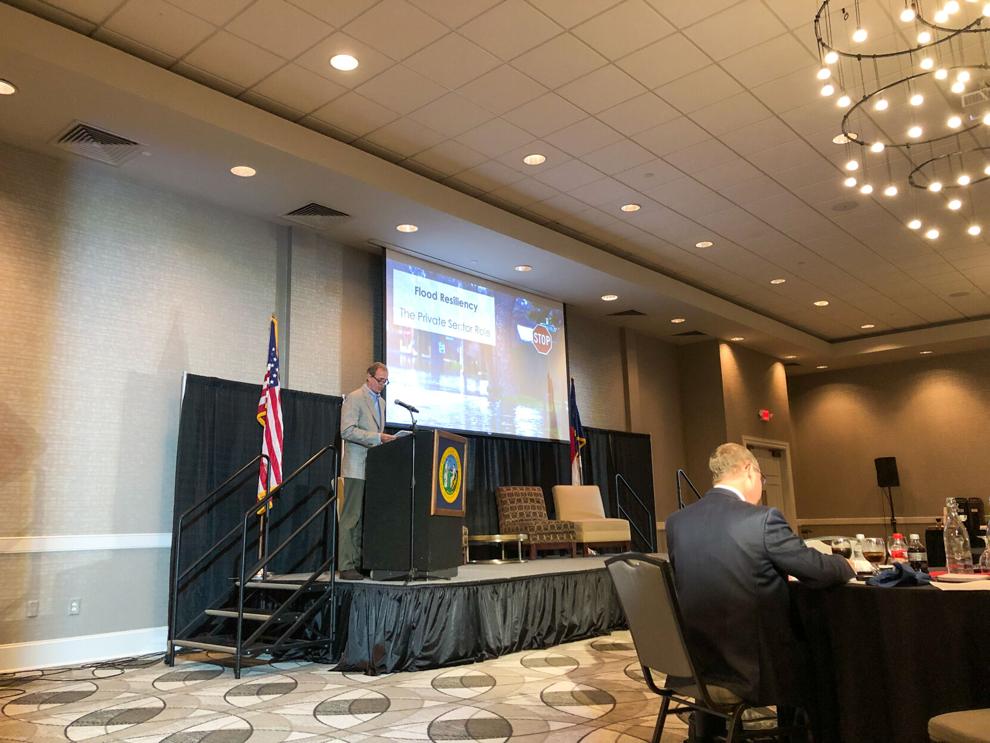 Antonia Sebastian, assistant professor in the department of earth, marine and environmental sciences at the University of North Carolina at Chapel Hill, shared historical perspectives on flooding in North Carolina. Sebastian said devastating flood events are not uncommon in the state, as flooding occurs most during tropical storms and other natural disasters. 
"The state of North Carolina has a very comprehensive flood mapping program in place, the maps are publicly available online and they're good tools for us to understand where the areas of highest risk are," Sebastian said. "It's also fair to point out they don't represent all the types of flooding that we see across the state of North Carolina."
The portion of extreme precipitation due to tropical storms has increased over the years, Sebastian said. She said the change in rainfall is greatest in the mountainous and coastal regions of North Carolina. 
The 100-year floodplain, Sebastian said, is a regulatory standard used to refer to an area with a 1% chance of seeing a flood in any given year. She said a home located in a floodplain has a 26% chance of flooding within a 30-year mortgage. 
Sebastian said the state can expect to see continued increases in extreme precipitation as well as sea-level rise in the future. Based on climate predictions, Sebastian said the number of days with extreme precipitation greater than three inches could double, especially in mountainous regions by the mid-century. 
"Urbanization increases the amount of water that runs off from areas upstream to areas downstream, but these things coming together can increase hazardous magnitude," Sebastian said.
One of the speakers included Reide Corbett, dean and executive director of integrated coastal programs in the Coastal Studies Institute at East Carolina University. Sea level rise, at both a global and local level, Corbett said, is a cause for concern when looking at the future of North Carolina's coastal plains and its flood risk. 
Corbett said global average temperatures and changes in sea level will cause fluctuations in North Carolina's coastline over time. He said the coastal system the state knows is set to change. 
Based on satellite data from the last 20 years, the global sea level is rising at about 3.4 millimeters per year or about 1.3 inches per decade, Corbett said. The primary drivers of sea-level rise within the last 25 years are thermal expansion, which is an increase in the volume of water as it warms and expands, and water added because of melting glaciers and ice sheets. 
"The data is there, sea level's rising. This is not an argument, sea level today is rising," Corbett said. "The rate of sea-level rise is also changing over time."
North Carolina's vulnerability to a rise in sea level can be attributed to the state's low-lying coastal plain, Corbett said. He said the northern Outer Banks has a rise in sea level twice as high as the level in Wilmington, North Carolina.
Saskia Pardaans, senior advisor on Infrastructure and Water Management at the Embassy of the Kingdom of the Netherlands, provided an outside perspective on ways to mitigate flooding. Pardaans said the country has worked to mitigate the risk of flooding as 26% of the Netherlands is below sea level. 
Without coastal protection, 60% of the Netherlands would be prone to flooding, Pardaans said. The country has set up a flood dense system that stretches across 2,350 miles.
"Since the 14th century, we (Netherlands) have been reclaiming land so we have experience with water management," Pardaans said. "We have learned to live with water and also to harness its power so it's very important."
Pardaans said after a flood in 1953 the Netherlands started the Delta Works. She said it's a series of construction projects in the southwest of the country, which includes six dams, two sluices, levees and five storm surge barriers. 
A key takeaway Pardaans said she hopes the United States will learn from the Netherlands is to live with water instead of fighting it. She said economic, social, environmental and health factors should be taken into consideration when looking at flood risk management.