Bookworms all over Greenville, North Carolina, will find an affordable feast at the Friends of Sheppard Memorial Library's 30th Annual Used Book Sale from Sept. 16 to Sept. 19 at the Greenville Convention Center, located at 303 SW Greenville Blvd.
The sale's hours will be from 6 to 8 p.m. on Sept. 16 and will only be open to Friends of Sheppard Memorial Library members on this day. The sale will be open to the public for the remainder of the weekend and will be operating from 9 a.m. to 8 p.m on Sept. 17 and 9 a.m. to 6 p.m. on Sept. 18. The sale will be open noon to 3:30 p.m. on Sept. 19 and on this day customers can fit as much as they can in a bag for $5. 
Jan Lewis, Friends of the Sheppard Memorial Library volunteer coordinator for the book sale, said the sale will include many different genres of books including fiction, biographies, travel, coffee table books and some textbooks. Other items like DVDs and CDs will also be available. She said depending on the category, prices of items range from about 5 cents to $4.
"We always have a great selection of books and high quality books. I was involved with a book sale in Virginia before I moved to this area and our books weren't nearly as nice," Lewis said. "I don't know if that's because ECU is here or what, but we have beautiful books, some that have never been read because they're still in the shrink wrap."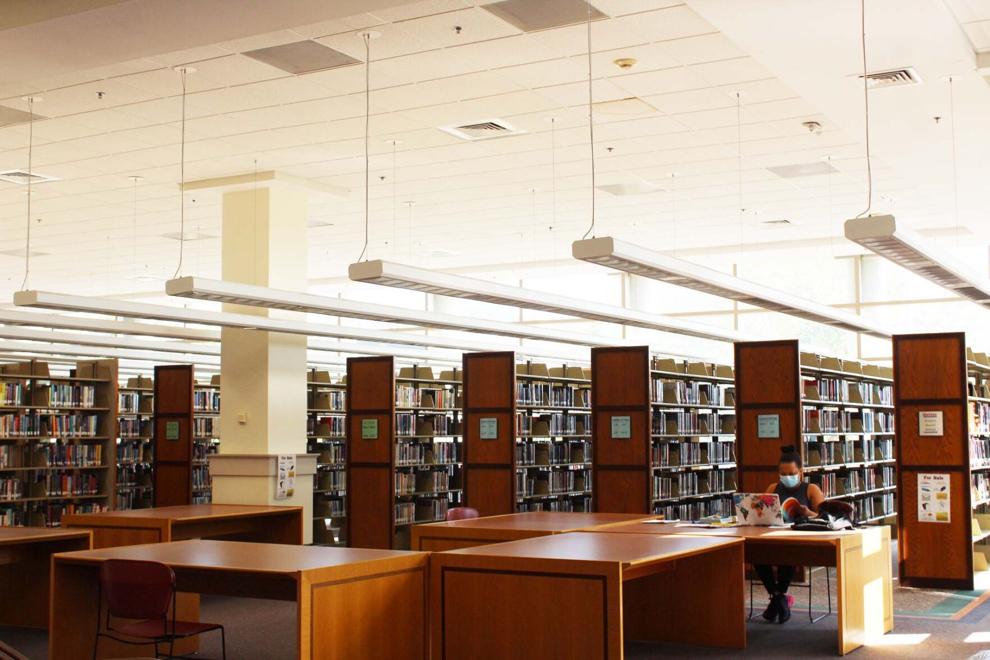 This year the sale will also feature a section of Christmas books, Lewis said. She said there may also be some first editions and other old books in the sale's classics section. The majority of the books at the sale were donated by community members while a smaller number are library discards. Since the last sale took place in February of 2020, she said the inventory for this sale is larger than usual.
Lewis said masks will be encouraged while inside and checkout lines will be socially distanced. She said the sale generally has very high public interest and that people mark the sale dates on their calendar so they don't miss the sale. She said many families come in and all pick out books together. 
"We have people that buy for church libraries, for charter school libraries, et cetera. We have some used book vendors too and that's fine, we just want these books back out there for people to read and enjoy and of course also to raise some money for the Sheppard Memorial Library's projects," Lewis said.
Some ECU students do attend the book sale each year, Lewis said, but there is usually a higher student turnout at the library's mid-year sale held at the Sheppard Memorial Library located at 530 Evans St. due to its closer proximity to campus. She said she finds ECU students tend to buy most frequently from the literature section.
Junior science education and chemistry major Kayleigh Linder said she had never heard of the Sheppard Memorial Library book sale, but it is something she would be interested in. She said she is a big reader and she thinks it would be interesting to visit the sale to see what they have to offer.
"It sounds like it's really accessible for people who maybe don't have the money to spend 20 bucks on a new book, but they want, if they have kids and they want to get book that their kids can read, especially if they're getting older, kids tend to grow out of books really quickly, so that's a way you could go grab a bunch of books for a small price," Linder said.    
In addition to the affordable pricing, Linder said the fact that the sale gives back to the library is another big motivator for her to visit. She said she likes giving back to organizations like libraries that are operated at virtually no cost to its individual patrons. She said ECU students should take advantage of the libraries in their communities more in general. 
Senior chemistry and psychology major Jordan Hardeman said she had not heard of the library sale either, but does have a public library card. She said she now plans to attend the sale and is excited to add more books to her already expansive collection. She said she enjoys reading physical books over e-books, so she looks forward to opportunities to get physical books for low prices. 
"I think it does give, especially ECU students, another option because I know books can be really expensive and that seems like it's a very much affordable way to get books," Hardeman said. "I have way too many, but I love new books."
Hardeman said she believes the book sale also has the potential to give people who aren't generally interested in reading an opportunity to try out books when they normally wouldn't. She also said its other offerings like DVDs could entice people who don't like to read as well. 
The book sale would give students an opportunity to get off campus and see all that the Greenville community outside of ECU has to offer them. She said events like this can pique student interest in community organizations and possibly encourage them to get involved in the community. She said this gives the event value both to helping the organization and the students.