Seniors graduating in December were recognized at East Carolina University with the Senior Send Off on Oct. 14 in the Main Campus Student Center and the Grad Expo on Oct. 14 and Oct. 15 in the Dowdy Student Store. 
Senior Send Off was sponsored by the Office of Student Transitions, Campus Recreation and Wellness and the Financial Wellness Hub. Lathan Turner, associate director of the Office of Student Transitions, said Senior Send Off is a way to honor seniors for their academic achievements. 
"With our Office of Student Transitions, we sit down every year and we think about different types of programs that we can create and put together to recognize all different levels of students," Turner said. 
Students were able to register to win a luxury diploma frame and take pictures in front of a celebratory purple and gold themed backdrop. The organizations passed out cookies and trinkets such as T-shirts, cups and buttons.
Turner said he talked with some of the attendees at the event to discuss plans after graduation and what was exciting to them through their years at ECU. He said the event brings nostalgia as  students start to realize they're going to miss the undergraduate experience.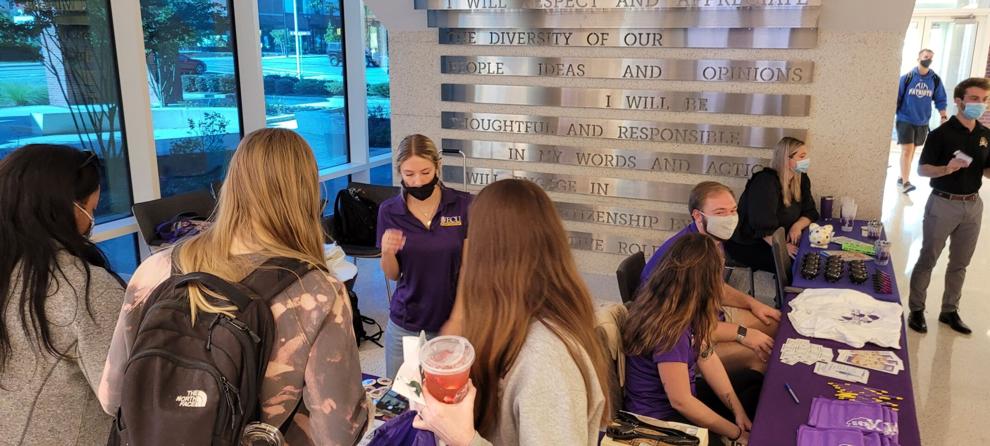 "It's always a good opportunity for us to get feedback like that, it helps to inform us on some of the programs and ideas that we do," Turner said. 
John Palmer, Dowdy Student Store general merchandise manager, said the Grad Expo was the kickoff for students graduating to be able to get information about graduation, class rings and pick up their caps and gowns. If students missed the Grad Expo they are still able to pick up their cap and gown from the Dowdy Student Store until the day before commencement. 
Palmer said this is the first Grad Expo since 2020 due to the COVID-19 pandemic. He said it is nice to have the students come in and be able to pick up their cap and gown because of the informality of accessing the material online.
"We had so many calls from students, parents and different people not knowing what to do but I'm glad to have the students back in the store," Palmer said.
The Grad Expo included vendors such as Jostens, Oak Hall and ECU organizations like the Office of the Registrar and the Graduate School where students could receive information upon their pending graduation.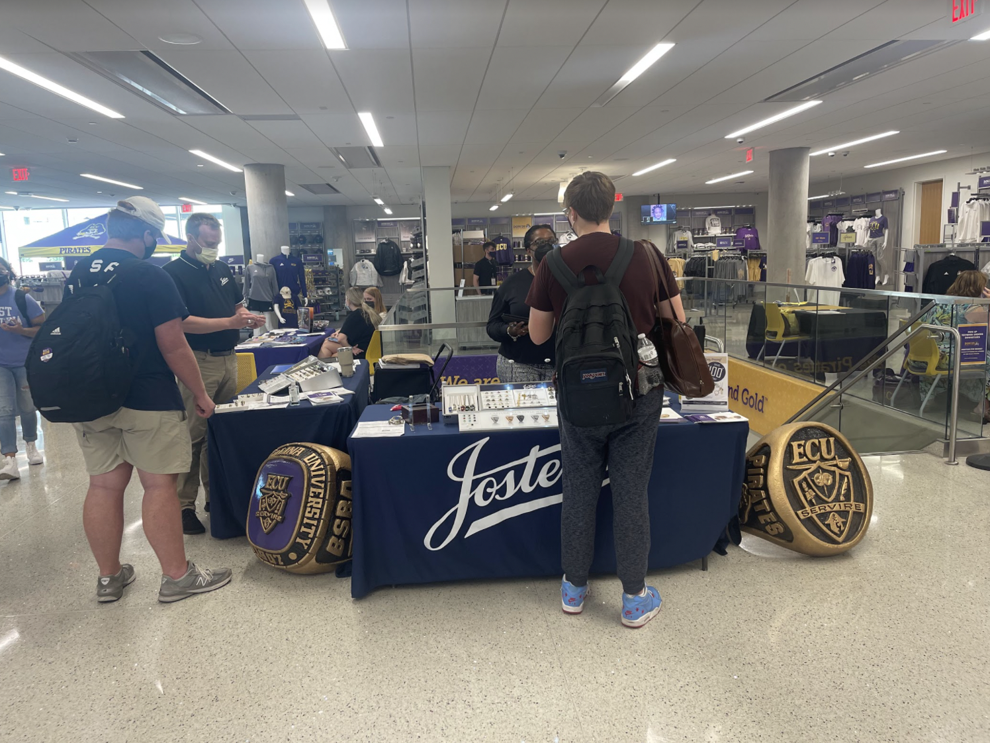 Asa Gandy, senior nursing major, attended and picked up his cap and gown at the expo and said he is looking forward to graduating in December of 2021. He said the Grad Expo was a beneficial resource for students who have an interest in furthering their education and to see what opportunities ECU has to offer.
"ECU has given me an opportunity to just grow as a person overall," Gandy said. "It's been a great experience thus far, but I'm looking forward to graduation being here in about eight weeks."  
After graduation, Gandy said he is looking forward to working and potentially obtaining a doctorate degree later on in life. Through his academic enrichment at ECU, he said taking prerequisites and being accepted into the nursing program were strong first steps for his career.