The East Carolina University football team is coming off its second straight 3-9 campaign under head coach Scottie Montgomery. ECU is looking to reach a bowl game after Montgomery guaranteed his team would reach the postseason in 2018 following its loss in the season finale to the University of Memphis.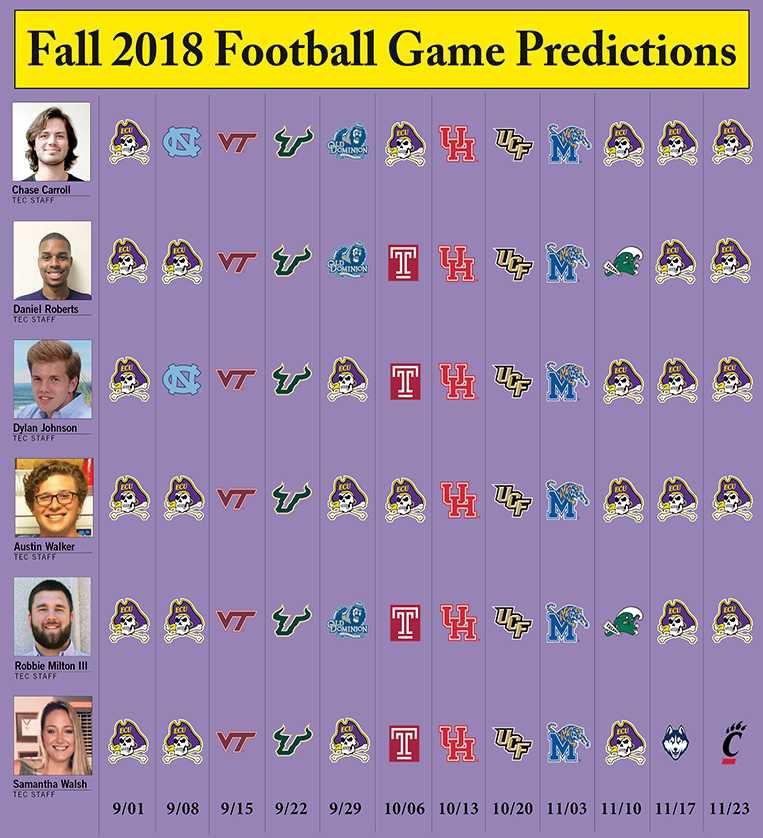 Overall, the Pirates play multiple teams coming off strong seasons, including two which are currently ranked in the NCAA AP Top-25 in Virginia Polytechnic Institute at No. 20 and the University of Central Florida at No. 21. They also open their season on Saturday against one of the top teams in the FCS in NC Agricultural and Technical State University, a team which went undefeated at 12-0 last season. NC A&T started its season last week against Jacksonville State University, coming away with a 20-17 win in the opener.
If the Pirates are able to scrape out a win over a tough FCS opponent that they are supposed to beat, they must turn around and host in-state rival University of North Carolina at Chapel Hill on Sept. 8, an Atlantic Coast Conference opponent which much like ECU, has something to prove coming off a 3-9 season. UNC also enters the 2018 season with controversy that will keep multiple players out against ECU. 13 players were suspended for selling team-issued Jordan shoes.
The Pirates gets little time to rest following the UNC game as they have to travel to No. 20 Virginia Tech on Sept. 15, another ACC opponent that the Pirates have had somewhat of a rivalry with over the years. In both 2014 and 2015 the Pirates pulled off upset victories over the Hokies. However Virginia Tech has had lopsided victories over ECU in the last two seasons. In 2016, ECU was embarrassed by Virginia Tech 54-17, and 2017 was an even worse showing for the Pirates as they were blown out 64-17. VT returns starting quarterback Josh Jackson who comes off an impressive redshirt freshman season where he led all Power Five freshmen quarterbacks with 2,991 passing yards, 236 completions and ranked second with 20 touchdown passes.
The Pirates then start their American Athletic Conference schedule on Sept. 22 with one of the conference's powerhouses, the University of South Florida. USF had one of the top offenses in the AAC last season, and in turn came away with a 10-2 season including a 61 point outburst in the team's 61-31 win over ECU.
The Pirates will split it's conference play up with a home game against Old Dominion University on Sept. 29, who comes off a 5-7 2017 campaign before restarting AAC play on the road against Temple University on Oct. 6. Temple went 7-6 in 2017, with its most lopsided victory of the season coming against ECU 34-10.
The Pirates' next three games will all be against AAC teams which have had big success in the conference in the past few years. The Pirates will face the University of Houston on Oct. 13, a team which has received national recognition over the past couple seasons. After a slight drop-off in 2017 with a 7-5 record, Houston looks to regain its form it showed off two seasons ago.
On Oct. 20 ECU will then face the defending AAC champion University of Central Florida, who comes off a perfect 13-0 season and a Chick-fil-A Peach Bowl victory over the University of Auburn. The Knights lost former head coach Scott Frost to the University of Nebraska, and will be led by Josh Heupel as its new coach.
After a bye week, ECU will face a Memphis Tiger team on Nov. 3 that demolished ECU 70-13 in the Pirates' season finale last year. They will then take on Tulane University on Nov. 10 and will attempt to avenge a 31-24 overtime loss last season.
The Pirates' final two games come on Nov. 17 against the University of Connecticut and on Nov. 23 against the University of Cincinnati. They look to be two of the Pirates' best shots at picking up wins as the Pirates defeated both of them last season to combine for two of their three wins on the season.